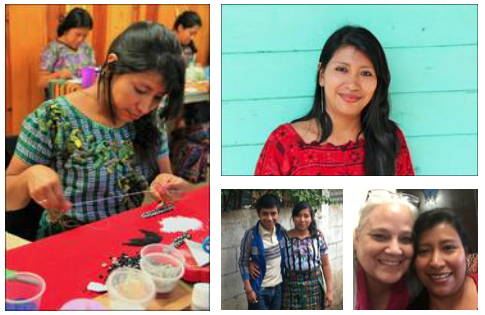 Myra joined Women of Hope as a seamstress and bead artisan in January 2014. She is a talented craftswoman and has become an excellent bead artisan over the last 5 years. She lives in San Lucas with her husband of 2 years, Adolfo, and her son, Caesar who is in 6th grade this year.
Working at Women of Hope gave Myra the opportunity to provide a better life for her son while still married to her abusive first husband. After abandoning Myra and Caesar her first husband committed suicide in late 2014. Myra and Caesar made their way together for several years. However in December 2017, Myra married again. Her new husband, Adolfo encourages her to continue her work at Women of Hope and loves her son Caesar like his own. They are hoping to build a home together which require them to watch closely their budget even with both working.
We are asking for your prayers for Myra and Adolfo in their still young marriage. We pray for her son during this transition, that the love and acceptance of his step father will make a huge difference in his life too.

Please join us in asking the Lord to give her endurance and strength in all that she does, being a wife and mother, working and studying in her senior year of high school in the adult study program. Please pray for consistent work for Aldofo.