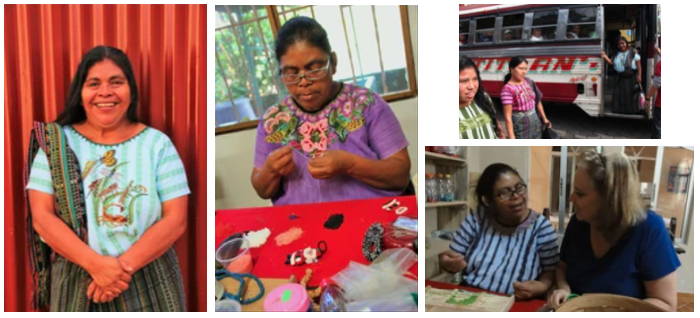 Juanita is a skilled artisan and bead specialist who loves her work. Her joyful countenance defies the pain and challenges that she faces each day due to severe clubbed feet. As a widow who must provide for herself, she created and sold some of her own products before joining us as our first artisan February of 2012. As a part of Women of Hope, she is grateful to have steady work in a supportive environment.

In 2005, Hurricane Stan wiped out Juanita's tiny home. She spent several years as a refugee, living in churches then with family members. A new community called ChukMuk was built specifically for the hundreds of people displaced by the storm. Juanita was blessed to receive one of these homes when it was completed in 2008.

Though it is not the norm for women to work outside the home, Juanita enjoys using her skills and engaging in fellowship at the center.
Pray for Juanita's health in general, especially pain relief in her knees & hips which is extreme because of her club feet. It is becoming increasingly difficult for her to walk to and from the bus even. Pray for her relationship with the Lord to grow and for her example for the other artisans as she has been with us the longest and is the oldest.