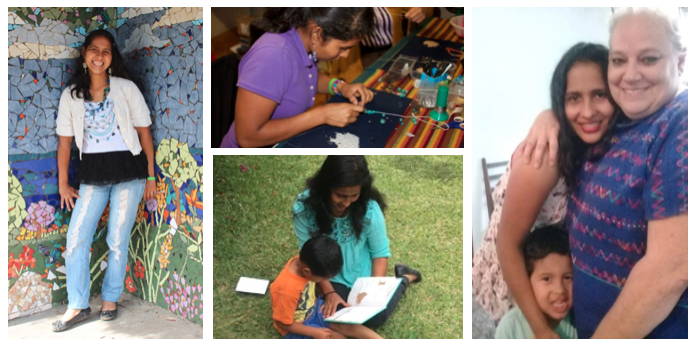 Mid 2017 Clara began working with WoH in a special training program to teach the artistry of bead work.
She excelled at the work, while living in a nearby village at a children's home with her son Danny. Clara suffered many forms of abuse from a very young age, living with family. When she became pregnant by her abuser, she was removed from the home and placed in the child protection system of Guatemala. She was transitioned through several children's homes until she and Danny were taken to Hands of Compassion, a childrens' home in the Lake Atitlan region.
June 2018, she and her son Danny became the 1st residents of our transition home, House of Hope. In August she told me that she finally felt like she truly had a family! It has taken this year of consistent love and care to give her the sense of security, which most take for granted growing up in a loving family.
Her story is a difficult one, but as she is learning through discipleship and our consistent care that God has a plan for her life. He has held her even in the hardest times and is giving her a future, hope through Christ. She is spending time with the church youth group and making many godly friends, friends of her own choosing, really for the first time in her life. Clara began school in an adult education program in early 2019 and is doing great! She is learning to read and write and is very proud of herself.
Praising the Lord for the talent Clara exhibits in beading; she has grown so much over the last 2 years. Pray for her as she meets with a counselor and continues to heal from trauma of many years of physical and sexual abuse. We pray that she and her son Danny continue to learn more about God's love for them and find their security in Him.
Please pray for Danny to know the love and salvation of Jesus at a young age.